Anti Aging Cream
Collagen Anti Aging Cream
Timeless Essence Collagen Anti Aging Cream Will Help You Stay Younger Looking!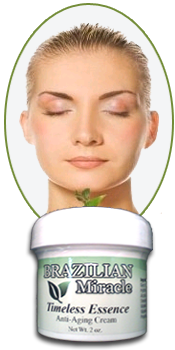 Noticing lines or wrinkles on your face?
Discovering laugh lines are not funny?
Does your skin look tired, puffy or saggy?
As we age skin looses elasticity and starts to sag then wrinkle. No product can stop a person from aging but Brazilian Miracle has combined powerful botanical and natural ingredients to make you look younger. Timeless Essence is a anti aging face cream that will literally stop the effects of Father Time on your skin. Now you don't have to subject your face to dangerous surgery or toxic Botox injections. This amazing all botanical Anti Aging Cream will not only stop your skin from getting worse it will even start to reverse skin damage that has already been done. Just a tiny amount of this smooth botanically rich all natural face cream will make your skin soft to the touch and radiant all day. You will absolutely love this cream
Benefits of Timeless Essence Anti Aging Cream:
Puts Back Skin Elasticity
Increases Skin Strength and Facial Firmness
Reverse The Effects Of Aging On The Face
Stop Skin Damage From Environmental Stress
What is collagen?
Collagen is known, as the Building Block of Skin is a naturally occurring protein, collagen provides the human body's structural foundation in bones, muscles and skin. Think of collagen as the threads of a fabric that holds your joints and tissue together. When you're young and a thread breaks off, a new one will replaces it, so your skin stays smooth, supple and wrinkle-free but as you age, this process slows down considerably. Your collagen "fabric" starts to break down and it's not so easily replaced, resulting in fine lines, wrinkles sagging and older looking skin.
Elastin Adds Elasticity If Collagen is the thread that makes up your skin tissue then elastin would be the same as a elastic band that keeps the fabric of your skin together. It is the element that gives your skin elasticity enabling to snap back after you've pinched or stretched it. As I am certain you can imagine as you age your elastin levels decrease and your skin sags. Just like Collagen, as we age the less of this protein your body produces.
Timeless Essence Anti Aging Cream Is naturally and specially formulated to restore the skin's natural youthful structure, tone and elasticity. This all botanical anti-aging skin cream is rich in emollients that leave your face soft, supple, radiant and Youthful. Everyone will be dying to know your secret!  Thy may even accuse you of  "having work done". Timeless Essence Anti- Aging Cream is delicately scented and is ideal under makeup for a daily moisturizer. We strongly recommend using it along with our Retinol Gel to help reverse Deep wrinkles
Our completely botanical formula contains spa quality ingredients
Soluble Collagen for a  strong foundation for your skin.
Soy Protein – helps skin retain moisture and tone.
Natural Beeswax – Moisturizes naturally.
Natural Vitamin E – Powerful antioxidant that helps to reverse the signs of aging.
Natural Lanolin – Moisturizes and protects.
Safflower Oil – Helps skin retain moisture and suppleness.