Deep Wrinkle Repair Retinol
Deep Wrinkle Repair
Retinol Gel For Deep Wrinkle Repair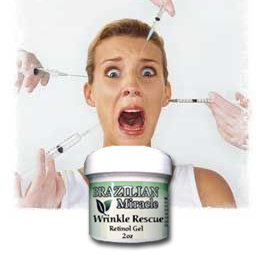 Do You Suffer From Face Wrinkles?
Wrinkle Rescue Deep Wrinkle Repair Retinol Gel by Brazilian Miracle Is a POWERFUL topical over the counter Retinol in gel form. Vitamin A Retinol  is naturally occurring fat soluble vitamin that occurs in the skin. It has been used successfully used to repair deep wrinkles and fine lines on the face. Due to its high concentration of Soluble Vitamin A and antioxidant properties, Wrinkle Rescue Deep Wrinkle Repair Retinol Is rapidly absorbed into the skin. It speeds the rate of new skin renewal giving you A smoother and younger face faster. Now fine lines and deep wrinkles vanish away in just days not months. Best of all, our formula while very powerful is also naturally gentle for all skin types.  We strongly recommend that you use it with our Anti Aging cream Click Here
Wrinkle Rescue Retinol Gel is a topical non-prescription form of Retin-A made from botanical plant based vitamin A. Although this gel was was originally designed to treat cystic acne, dermatologist found that Wrinkle Rescue Retinol Gel gel is also extremely effective reducing face wrinkles and combating the signs of sagging, aging skin. Using Wrinkle Rescue Retinol Gel will reduce wrinkles and allow you to turn back the clock!
If your Looking for Intense Deep Wrinkle Repair Our All Botanical Retinol Gel Formula Is All You will Need
Get Intense Relief From Face Wrinkles
Now You Can Erase Deep Lip Lines Naturally
Achieve Young Looking Smooth Skin In Just Days
Our Formula Can Be Worn Under Makeup
Brazilian Miracle Wrinkle Rescue will produce amazing results. Just rub it in and start looking younger in just days
Brazilian Miracle Wrinkle Rescue minimizes the look of deep lines and wrinkles; improves skin texture. Prevents and heals free radical damage, fine lines and wrinkles disappear. Light; non-greasy feel. Gentle enough to use every days.